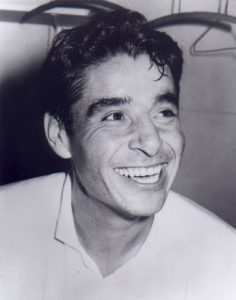 Born in Los Angeles to working-class Mexican immigrants, Richard "Pancho" Gonzalez was a self-taught tennis player who overcame many challenges, including racial discrimination, to become the best player in the world for a record 10 years. The first Hispanic-American superstar athlete, movie-star handsome Pancho was considered by some as the greatest and most charismatic tennis player of all-time.
As an 11-year-old, Pancho was the L.A. marbles champion. But he was most impressed by an African-American, "Armless" Willie, born without arms, who shot marbles with his feet. Willie's courage left an indelible mark on Pancho.
When Pancho was 12, his mother bought him a department store racket and soon he was teaching himself to play at Exposition Park.  A natural athlete, within two years Pancho became the best player in his age group. An Anglo friend affectionately nicknamed him "Pancho," slang for Mexicans and, like it or not for Richard, it stuck.
Although Pancho was a good student, he spent more time on the tennis court than in class. Ultimately, he was banned from junior tournaments due to truancy. Soon Pancho was in trouble with the law for curfew and spent a year in reform school for petty burglary.
After serving in the Navy, friends convinced Pancho to give tennis another try. Within two years, and shocking the tennis world, he won the 1948 United States National Championships. The country-club elite didn't appreciate a Mexican kid from the streets being champion and labeled the win a fluke. Determined, the next year Pancho defended his crown with a five-set win over Wimbledon Champ Ted Schroeder. With a wife and child, and one more on the way, Pancho turned pro.
Although that first year he was beaten badly, through relentless practice, Pancho eventually became the World's Professional Champion. He also discovered another love: auto racing. He held drag racing records and, with his brother Ralph driving, won numerous titles.
Amazingly, Pancho won tennis tournaments into his 40's, continually beating the best players in the world, some half his age. But Pancho always regretted not finishing school and eventually received his GED at 57. With all the championships and honors in his remarkable Hall of Fame career, Pancho might have been proudest that he had encouraged youth to complete their education.
Career Highlights
1948 – US National Championships (US Open), US Clay Courts
1949 – US National Championships, US Clay Courts, & US Indoors. First Player to hold all three titles on these three different surfaces in the same year.
1951-53 – Professional World Singles in Wembly, England (Tournament not played in 1954 & 1955)
1956 – Professional World Singles in Wembly, England
1964 Wins US Pro Indoor NY defeating Ken Rosewall in finals 5-7, 3-6, 10-8, 11-9, 8-6
1965 Wins Dallas CBS Championships defeating Ken Rosewall in finals.
1966 Wins Wembly Championships defeating Rod Laver in the finals 6-3, 5-7, 12-10
1968 Wins LA Open (LA Forum) defeating Laver in finals in 3 sets
1969 Wins Howard Hughes Open (most monetarily prestigious tournament) by defeating Arthur Ashe in the finals 6-0,6-2, 6-4
1970 Wins $10,000 winner take all match against Rod Laver before 15,000 fans at Madison Square Garden 7-5, 3-6, 2-6, 6-3, 6-2
1970 Wins $10,000 winner take all match against John Newcombe 6-4, 6-4, 6-2
1970 Wins Howard Hughes Open defeating Rod Laver in finals 6-1, 7-5, 5-7, 6-3
1971 Wins LA Open defeating Jimmy Connors in the finals 6-2, 7-5
1972 At age 44, win Des Moines ATP tournament defeating Frenchman Georges Goven. He is the oldest player to win a professional tour championship (the record still stands).
This above is a limited list of Pancho's record as his career included so many significant
accomplishments.
Pro Tours Won by Richard:
1954-61 – Professional Tour Champion for 8 years
1954 – Won round-robin tour with Frank Sedgman, Pancho Segura, and Don Budge
Defeats Ken McGregor 15-0
Defeats Denny Pails 45-7
Defeats Pancho Segura 40-8
1953-56 – Defeats Tony Tabert 74-27
1957 – Defeats Ken Rosewall 51-26
1958 – Defeats Lew Hoad 51-36
1959 – Won round-robin tour with Hoad, Mal Anderson and Ashley Cooper
1960 – Won round-robin tour against Rosewall, Segura, & Olmedo with a 49-8 record (Rosewall 2nd at 32-35)
During this tour Richard was so superior to his competition Tour Promoter Jack Kramer tried limiting the server to one serve and certain other bounce rule changes.
1961 – After a 6 month retirement, won round-robin tour with Butch Buchholz, Barry McKay, Andrea Gimeno, Hoad, Olmedo, Talbert and Cooper. Richard retires as King.
Professional World Championships Tournament
1953 – Defeats Don Budge 4-6, 6-4, 7-5, 6-2
1954 – Defeats Frank Sedgman 6-3, 9-7, 3-6, 6-2
1955 – Defeats Pancho Segura 21-16, 19-21, 21-8, 20-22, 21-19
1956 – Defeats Pancho Segura 21-15, 13-21, 21-14, 22-20
1957 – Defeats Pancho Segura 6-3, 3-6, 7-5, 6-1
1958 – Defeats Lew Hoad 3-6, 4-6, 14-12, 6-1, 6-4
1959 – Defeats Lew Hoad 6-4, 6-2, 6-4
1961 – Defeats Frank Sedgman 6-3, 7-5