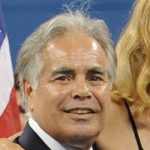 Dan Gonzales
Co-Founder | President | Board Chairman 
Son of Pancho Gonzalez, Dan has a background in tennis instruction and tennis facility management along with many years of sales and management experience in the sporting goods industry. He has served as Director and Board Member for several tennis organizations, including the Colorado Tennis Association and the Intermountain sections of the United States Tennis Association (USTA). He currently works as a tennis professional at a community tennis club and coaches boys and girls local high school tennis teams.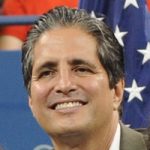 Greg Gonzales
Co-Founder | Vice President | Board Member
Pancho's nephew, Greg, has been around tennis all his life and has worked as a tennis instructor for several years. He worked at the Caesars Palace Tennis Shop and helped run the Alan King Tennis Classic Professional Tournament. In recent years, he has helped fundraise and organize events during the USTA's Hispanic Initiative, including the USTA tribute to Pancho Gonzalez held at the US Open in 2009. He has published a children's book entitled, "Tennis Legend Pancho Gonzalez" and was Associate Producer on Spike Network's national broadcasted biography on Pancho Gonzalez,"Pancho Gonzalez: Warrior of the Court."
Richard Gonzales
Director of Tennis Programming | Board Member
Pancho's eldest son, Richard, is a professional tennis instructor with an extensive history of player development and tennis event and tournament operations. Richard's instruction work began at the Pancho Gonzalez Tennis Ranch, located in the Santa Monica mountains northwest of Los Angeles, CA. The Tennis Ranch was a summer camp for young people who wanted to learn and improve their tennis skills. Subsequently, Richard was appointed Assistant Tennis Director for Caesars World, Inc., headquartered at Caesars Palace in Las Vegas, NV. Throughout the years, Richard was able to work alongside his father to gain valuable experience in coaching, training, and tennis event development and management, including Las Vegas Virginia Slims WCT and Alan King Tennis Classic events. Richard, along with his father, won three national father and son titles, one clay, and two indoor titles. He currently resides in Bakersfield, CA, continuing to teach and share his extensive knowledge of tennis.
Salvatore "Sal" De Leva
Board Member
Sal has been involved in the game of tennis since his arrival from Italy in his youth. Sal started and was the publisher of Tennis Life magazine for the Washington D.C. area and has served in various USTA positions, which culminated his position as President of the Maryland District for two terms and the Mid-Atlantic section for one term. During this period he was also a member of the NJTL and Public Relations committees at the national level. In 2006, shortly after leaving the USTA, he decided to return to Washington D.C. and convince the Latin American Youth Center to begin a tennis program targeting the kids of the large Hispanic community. Sal began the "Pancho Gonzalez Youth Tennis Academy," which was a huge success. Presently, Sal continues to volunteer for the Academy, and organizes a year-round junior tournament circuit in the Washington D.C. area.